Tony Palermo's RuyaSonic Site
Sparx Audio Adventures
(formerly known as Radio Drama Resources)
Audio Theatre, Sound Effects, Technology, Technique, Dreams & Sonic Magic
Tony "Sparx" Palermo is a sonic showman who uses voice, music, and sound effects to create worlds before your very ears. An award-winning radio drama artist and educator, he hosts this website to share the magic of telling stories via sound. Tony's worked for the United Nations, public radio, audiobooks, theaters, museums, schools and colleges across the world. Also known for his Sparx Audio Adventure educational programs for children, Tony lives in Los Angeles California, but travels far and wide to perform and teach. Tony's RuyaSonic Radio Drama Resources website is one of the most extensive collections of do-it-yourself information regarding radio drama and sound effects to be found on the Internet.
Ruya is Arabic for dream and this site seeks to deliver dreams via sonic artistry.
---
The Palermos' Silly Christmas Cards - See over 25 years of comical holiday cards, "Dear Santa" letters, song parodies, etc.
Our 2015 Card: (Click image to see the entire card)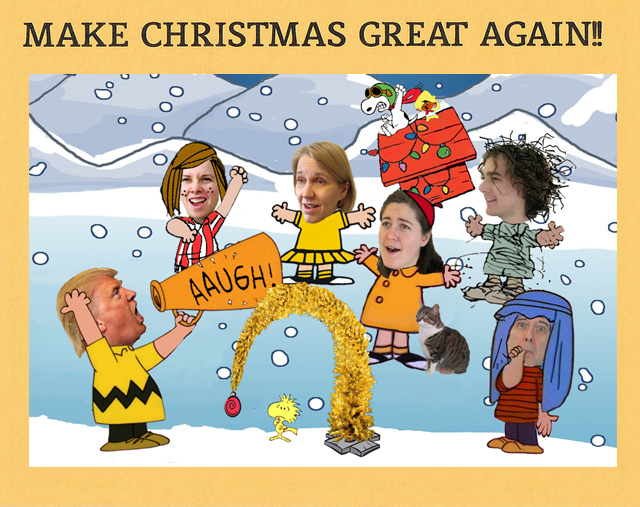 Features:
Contact Information
Tony Palermo/SPARX is available for bookings to teach, conduct workshops, produce, write, direct, or perform sound effects for broadcast, stage, or recording. You can also buy scripts, music cues, SFX devices and other audio theater related gear.
Postal address

940 S. Windsor Blvd, Los Angeles, CA 90019 U.S.A.

Electronic mail

Tony Palermo:
General Information:
Bookings:
Sales:
Our Webmaster: WebMaster@RuyaSonic.com