'The Headless Horseman of Sleepy Hollow'
Radio-play script, music & sound effects
Perfect for 2021-2022!
Radio-plays are uniquely suited for COVID-19 remote productions as part of distance-learning classes or in-person, social-distanced ensemble performances—both of which can be recorded for distribution via broadcast, Zoom, or other web-based platforms. I DO license on-demand downloads, with no restrictions as to what platform (your website, YouTube, etc.)
---
An imaginative 60-minute radio drama (or radio-live-on-stage) adaptation of Washington Irving's famous short-story, The Legend of Sleepy Hollow--perfect for Halloween, Thanksgiving or any Early-America course of study. Radio plays are easier to produce than traditional stage-plays, because there are no sets, costumes or memorization required. Here is detailed information about the radio play, the cast, sound effects, and background music.
The performance royalty fee is based upon the venue (theater, school, radio station) and the number of performances/broadcasts. You order by sending me an e-mail detailing the venue and number of performances. I will e-mail you complete information about the royalty fee and how to pay. If you make an online payment via PayPal (using debit card or credit card), you can have the script, music and sound effects in your hands within hours. I e-mail you a PDF of the full script. The music and sound effects tracks can downloaded as MP3 files.
My script dramatizes Irving's classic short-story, bringing to life scenes and characters that were merely described in the original, including the one-room schoolhouse, the Van Tassel household, the country damsels, the townsfolk's ghost stories, singing-master Ichabod's terrible church choir, the quilting frolic, and the climatic chase by the Headless Horseman. The treatment is both spooky and funny, with a poetry duel, a rained-out pie-contest and several are-they-or-aren't-they dream sequences with the Horseman. As with my adaptation of Dickens' Christmas Carol, the show is suitable for all audiences, yet performable by students. However, it is not dumbed-down for kiddies. I remain true to Washington Irving's short story, bringing plenty of authentic 1789 elements—from Major Andre, to Isaac Watts to Jonathan Edwards to Hudson Valley folktales.
I offer a professional adaptation of Washington Irving's short-story, The Legend of Sleepy Hollow--as a radio play. The script is delivered as a PDF file via e-mail. There is no fee per-script-copy, that other play publishers charge. I send you a PDF of the full script and you can make as many copies as needed for cast and crew—at no additional charge
I also offer pre-recorded sound effects backgrounds and pre-recorded music tracks featuring orchestral backing for the narrator's scene transitions and underscoring some portions of the dialogue. These work the way movie music enhances spookiness or other emotional states. Additional music tracks feature a pump organ for Ichabod Crane's terrible church choir and a 1789-style folk band for the raucous dancing/singing at the quilting frolic.
EXTENSIVE 'HOW-TO' GUIDE INCLUDED:
Along with the script, you get a 15-page appendix including casting monologues, a sound effects cookbook, pre-recorded track listings and audio-gear requirements. The live sound effects (galloping horses, door knocks, footsteps, etc.) are up to you to assemble, but my script has a "cookbook" section explaining how to make each sound using items you can find in your town. Additionally, since I am a professional sound effects artist, I offer pre-recorded tracks of the more unusual sounds--(crickets, rain, thunder, meadow ambience, lapping waves, plunging into the Tappan Zee, a cloudburst, etc.) for a one-time fee.
---
TO ORDER:
I accept institutional checks (theater, school, church) as well as credit/debit cards via the free and secure www.PayPal.com service. If you pay on-line, you can have the script, music and sound effects in your hands within hours.
---
The performance royalty is based upon the venue (theater, school, festival) and the number of performances. First, contact me at and tell me about your intended production (venue size, seating capacity, ticket prices, how many performances, etc.) I will reply with a detailed quote on fees and how to pay. After I receive payment, I deliver the full script via e-mail as a PDF file, and the pre-recorded music cues and pre-recorded sound effects tracks can be downloaded as MP3 files.
If you want to produce The Headless Horseman of Sleepy Hollow as a stage play, you couldn't find a more authentic, entertaining and resource-laden version than this.
---
---
The Headless Horseman of Sleepy Hollow is Tony "Sparx" Palermo's faithful, yet imaginative reworking of Washington Irving's classic tale of Americana. While Irving's original short story is long on description and bereft of dialogue, this adaptation takes each scene from Irving and dramatizes it. We inhabit Ichabod Crane's classroom, Katrina Van Tassel's rich home, Tarrytown's riverside gossips, the Quilting Bee, the haunted Old Mill--as well as new scenes of Ichabod's ill-fated pie-eating contest, a poetry-duel with a country bumpkin, lodging with the Van Brunt family, awful singing lessons and an out-of-tune choir at the Old Dutch Church. What's more, Ichabod has two nightmares featuring the Headless Horseman, before their terrible encounter at the crossroads.
This adaptation has been performed and recorded by community theatre troupes and students across America. This richly imaginative story is particularly well-suited to the medium of radio, but it also goes over well as a live-on-stage performance--one which doesn't require costumes, sets or memorization. The manual sound effects (mostly doors, horse hooves, thunder and walla walla) always fascinate live audiences.
This script is true to Irving's language and theme--without a string of characters merely reciting Irving's descriptions, as you'll find in several other adaptations. What's more, this production boasts authentic, orchestral music tracks of early American folk and thrillingly spooky ghost music. The instrumentation varies from woodwind and strings to dulcimer, guitar, drums and harmonica, to reed organs, chimes, cymbals, and timpani.
Additionally, pre-recorded sound effects are available for the more unusual sounds: creepy crickets, tree frogs, thunderstorms, the waves of the Tappan Zee, pastoral meadows, eerie winds. Please note that sounds generated by the characters, such as doors, the Horseman's devilish steed, noisy party crowds, plates & forks and ritual drums are not part of the pre-recorded collection. They are intended to be done live by the sound effects crew in coordination with the actors as they perform.
Changes of gender for characters is permitted, as is trimming lines and even whole scenes.
---
Headless Horseman of Sleepy Hollow sample radio play script--with scene excerpts and a truncated version of the 15-page "How To" appendix:
SCRIPT SAMPLE - RADIO DRAMA VERSION - 'Headless Horseman of Sleepy Hollow' - Truncated [PDF]
You can view/print the sample radio script PDF with the free Adobe Acrobat Reader program, which works for PCs, Macs, and Android devices.
Audio clip of pages 2-3 of the script, demonstrating how live sound effects, voices and my pre-recorded music and pre-recorded sound effects work together to tell the story vividly. (Note: Only the crickets and wind are pre-recorded sounds. All others are live SFX.)
DEMO AUDIO CLIP - 'The Headless Horseman's Origin' - from pages 2-3 of the radio drama script [MP3]
---
Cast size for 'Headless Horseman'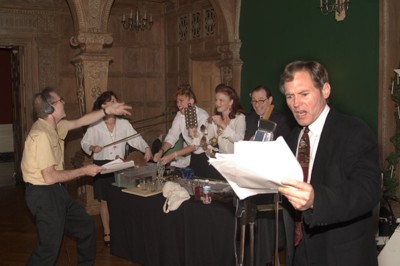 Throughout the play, there are never more than 6 characters in a scene, so a small cast can easily perform the entire show. However, you can employ anywhere from 7 to 30 actors.

Maximum: 16 men, 13 women, and 1 man-OR-woman. With the doubling of roles, this show has been done with only 12 actors (6 male, 6 female—but you are permitted to change the genders of characters to suit the makeup of your troupe.)
Without doubling, the cast list is as follows:
| | |
| --- | --- |
| KNICKERBOCKER | The narrator (Male/Female) |
| ICHABOD CRANE | Yankee school-master (M) |
| KATRINA VAN TASSEL | Rich 18 yr-old girl (F) |
| BROM VAN BRUNT | Arrogant suitor (M) |
| SIBYLLA VAN RIPPER | Old mid-wife (F) |
| PARSON HILLEBRAND | Fiery preacher (M) |
| LITTLE ULF VAN BRUNT | Mischievous boy (M) |
| MOGEN VAN BRUNT | Tough blacksmith (M) |
| KOREN VAN BRUNT | Wife of blacksmith (F) |
| LORIS | Cheeky country lad (M) |
| VOORLEZER | Church leader (M) |
| MYNHEER 1 | Superstitious man (M) |
| MYNHEER 2 | Skeptical man (M) |
| MYNHEER 3 | Gullible man (M) |
| VROUW 1 | Superstitious woman (F) |
| VROUW 2 | Skeptical woman (F) |
| VROUW 3 | Gullible woman (F) |
| LITTLE GERT | Young girl (F) |
| BALTUS VAN TASSEL | Wealthy farmer (M) |
| SOFIE VAN TASSEL | Regal farm wife (F) |
| VARKENVISSER | Storyteller (M) |
| ASTRID | Country damsel (F) |
| BRIELLE | Country damsel (F) |
| ROOS | Country damsel (F) |
| ALVA | Girl student (F) |
| FAMKE | Girl student (F) |
| CECILIUS | Boy student (M) |
| DOL | Boy student (M) |
| HEADLESS HORSEMAN | Vengeful ghost (M) |
---
Music Tracks for 'Headless Horseman'
Additionally, I offer pre-recorded orchestral music tracks—20+ minutes worth. These 22 tracks cover scene transitions and underscore the drama. They are NOT Broadway-style musical songs—although there are several songs to be sung by cast members. Mostly, the music tracks function the way movie music does—supporting the drama. The instrumentation consists of a small orchestra, supplemented--for the quilting frolic band--with hammered dulcimer, guitar, jaw-harp, harmonica, and snare drum.
The music cues are available as downloadable MP3 files.
01) Sleepy Hollow Intro [1:08]
02) Horseman's Origin [1:44]
03) School-master [0:37]
04) Van Brunt Dinner [0:34]
05) Moonlight Walk [0:41]
06) Eerie Ritual [2:41]
07) Only a Nightmare [0:39]
08) Country Damsels [0:41]
09) Van Tassel's Parlor [0:47]
10) Sabbath Bells [0:49]
11) Boating Excursion [0:49]
12) Hush-A-Bye [0:31]
13) Heavenly Courting [0:19]
14) Rude Awakening [0:19]
15) Twilight Journey [0:41]
16) (SOURCE) Frolic [0:44]
17) (SOURCE) Yankee Doodle Dancing [2:31]
18) Firesiders [0:31]
19) Ichabod's Sigh [1:07]
20) Vengeful Coup [0:46]
21) Aftermath [0:59]
22) Twisted Fanfare Outro [0:21]

---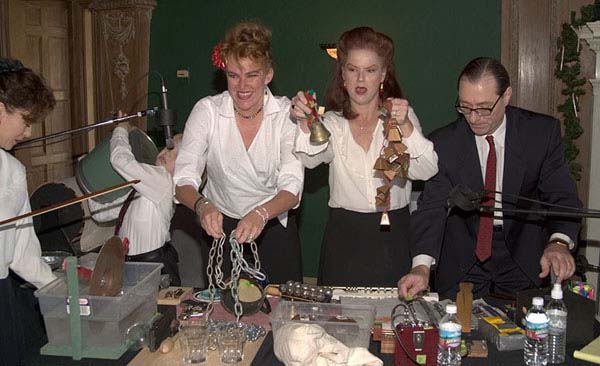 Listing of Live Sound Effects for 'Headless Horseman'
The script offers detailed instructions on how to find/make them in the SFX cookbook section of the 15-page appendix.
MUSKETS

BIRCH SWITCH

WHACK WITH BIRCH SWITCH

TREE TOAD CROAKS

DOOR, MILL DOOR, RATTLES KNOB

DOOR KNOCKS

APPLAUSE

SADDLE TUMBLES ONTO GROUND

DANCERS STOMPING TO THE BEAT (1-2-3-4)

SWORD FIGHT(S)

DINNER PLATES, FORKS, SCOOPING FOOD

FOOTSTEPS ON LEAVES, WOODEN FLOOR

THUNDER RUMBLE

CRASHING

POURING INTO A MUG

OARS ROWING

SCUFFLE

PUMPKIN CRASHES

HORSES WALKING, GALLOPING

HOOTING OF A SCREECH-OWL

SLOW GHOSTLY DRUMMING (1-2-3-4, REPEATS)

CRANKS A PULLEY OF CHAINS

CANNON BLAST

WIND (Wind machine or mouth-blowing near mic)

HORSE-SHOE FALLS ONTO WOODEN FLOOR

SLAPPING ICHABOD TO WAKE HIM

DOG HOWLS

BRICK-LIKE CAKE DROPS ON TABLE. DISHES CLATTER

---
Listing of Pre-Recorded Sound Effects for 'Headless Horseman'
I also offer 17 pre-recorded sound effects tracks—33 minutes worth—of the more unusual sounds: spooky winds, crickets, tree frogs, storms, water splashes, lake ambience, thunder, creek water rushing into a mill vat, etc.
01) Crickets [1:30]
02) Crickets & wind #1 [1:30]
03) Crickets & wind #2 [3:30]
04) Mill ambience of dripping water [1:00]
05) Water streams into vat [1:00]
06) Mill-Pond ambience - a bit windy [5:00]
07) Cloudburst [0:15]
08) Tappan Zee ambience [5:00]
09) Brom falls into river, splashes about [0:30]
10) Sofie falls into river, swims [0:15]
11) Twilight meadow ambience [4:00]
12) Midnight Crickets & Wind, Thunder [1:35]
13) Rain begins, then downpour [2:00]
14) Intense thunderstorm [1:40]
15) Ichabod plunges into brook, Thunder [0:15]
16) Sunday ambience [1:20]
17) Crickets & wind #3 [0:35]