Tony "Sparx" Palermo's Radio Activities for 2005
Click here for Radio Activity News - Current -- News - 2006 - News 2007
(in backwards chronological order)
December 2nd, 2005 to January 1st, 2006 - Pasadena - 30 PERFORMANCES
It's a Wonderful Life - The Pasadena Playhouse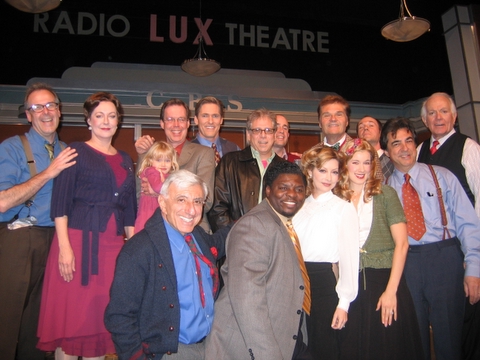 For the entire month of December 2005, Tony performed live sound effects for the Pasadena Playhouse's radio-on-stage production of Frank Capra's It's a Wonderful Life. In addition to doing sound effects and producing the show, Tony adapted the script.
It's a Wonderful Life script & SFX for radio - Details about how you can produce my radio adaptation of Frank Capra's classic film.
For the 2005 Pasadena Playhouse shows, Stuart Ross of Forever Plaid fame directed a deft ensemble of supporting characters and a rotating cast of celebrities in the leads. December 1-3 saw Michael Richards, Sara Rue, Orson Bean and Susan Sullivan (pictured). A special Gala performance December 4th featured Alfred Molina, Brooke Adams, Tony Shalhoub and Michele Engemann. For the December 8-11th shows there was Robert Picardo, Stephanie Zimbalist, Hal Linden and Tom Hatten. December 15-18th saw Joe Mantegna, Sharon Lawrence, Fred Willard, and Jamie Farr (That cast is pictured above, left). December 18-23rd starred John Larroquette, Markie Post, Jamie Farr and KPCC's Larry Mantle. The December 28-January 1st cast featured Michael Gross, Meredith Baxter, Dick Van Patten and Dakin Matthews.
The terrific ensemble of character actors included Andrew Borba, Ivar Brogger, Jenna Cole, Robert Mandan, Brian McGovern, Monette McGrath, and Harrison White. Jonathan Green (who has worked with Tony on the comedy-improv Liquid Radio Players' shows) provides warm and gripping period-authentic organ and piano. Gary Wissman's beautiful set (pictured) recreated a 1940s CBS/LUX radio studio.
SFX-wise, Tony broke glass, slammed doors, drove cars, pushed squeaky wheelchairs, snow-walked, plunged into icy rivers, and whipped up magic for this busy and very imaginative show. This was a delightful production for the whole family and a perfect Holiday evening at the (radio) theatre. The audience numbered between 400 and 680 over the 30 performances.
A special show was held on January 2nd for the staff of the Tournament of Roses, just drying off from the very soggy 117th annual Rose Parade. Among the audience was Supreme Court Justice Sandra Day O'Connor. When the Secret Service bomb-sniffing dogs were brought in, Tony wondered if the incredible realism of his hand-made gun-shot SFX device might cause her bodyguards to wrestle him to the ground as a threat to national security. He could see the headline: Man with Gun-Shot Sound Effect Fires At Justice O'Connor. Some might say, Tony was heard by the Supreme Court. And others would add that he should have pleaded insane! (1/02/2006)
December 8, 2005 - Pasadena - SPARX Educational show
As part of an education outreach program at the Pasadena Playhouse, Tony--in his persona as Sparx, the Sonic Shaman--hosted 250 7th and 8th grade students from the McKinley Arts Middle School. In his 75-minute assembly show, Sparx took the students from the beginning of the Universe (with a deafening "The Big Bang" live sound effect), through pre-historic times, through the Fourth Crusade of 1204 A.D., through a 5 minute scene from Charles Dickens' A Christmas Carol--with Tony doing all the voices and sound effects and triggering his orchestral score--through the history of radio, including podcasting, and finally ending in Heaven. All 250 students, and their teachers, participated in several sound effects sequences ranging from a medieval battle to a bank panic to booing, hissing and cheering. It was an epic day and a lot of fun. (12/09/2005)
November and December 2005 - World Wide - Radio Adaptation of Dickens' A Christmas Carol
This holiday season, Tony's radio adaptation of Charles Dickens A Christmas Carol will be produced by radio stations across the U.S as well as theatre troupes, schools, rest homes and even private parties, with several productions overseas, including Ireland, Egypt, and Poland. In La Quinta, California, a legit theater is mounting Tony's "Radio Carol" as a full-fledged stage play, complete with costumes, singing, and live music. See the "Radio Carol" page for more information. "God bless radio drama! Every one!" (12/14/2005)
October 26-30, 2005 - Los Angeles - PERFORMANCES for Broadcast on NPR stations & XM satellite radio in December 2005, and January 2006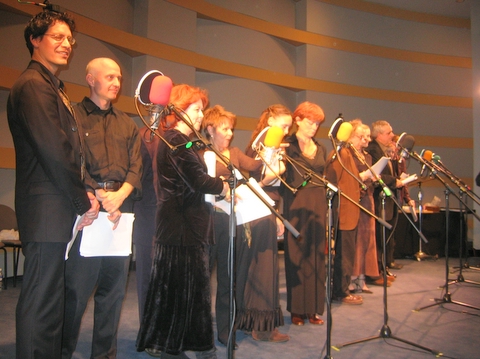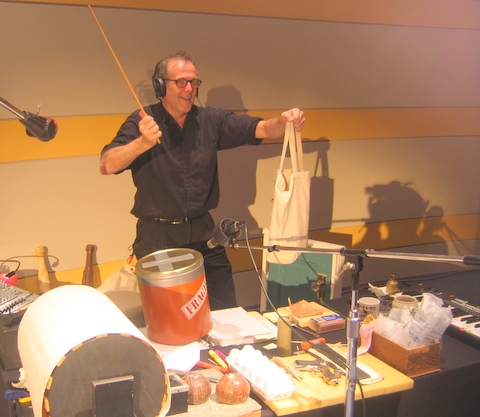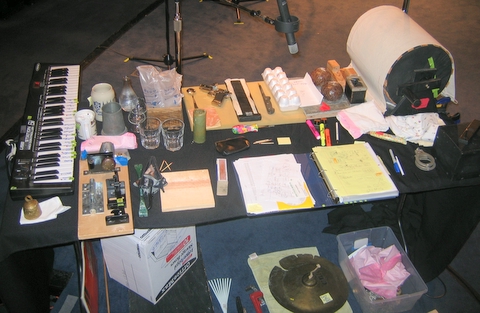 Tony performed live sound effects for L.A. Theater Works' 2-hour A Tale of Charles Dickens at the Skirball Cultural Center. Five performances before a live audience were recorded for broadcast on National Public Radio and XM Satellite Radio.
This full-fledged radio drama by Janet Dulin Jones & Paul Lazarus is a very Dickensian fictionalization of Charles Dickens own life in London in the 1830's, before he became a novelist. Here, Dickens, the newspaperman, investigates arson and murder amidst many of the colorful characters that would later populate his fiction. Paul Lazarus directed a cast of 17 in this action-packed show, starring the award-winning Antaeus Company, hot off their recent stage hits, Mother Courage and Pera Pelas. The music was by Jan Powell and live sound effects by Tony. Mark Holden engineered, as he does for all LATW shows. Susan Albert Lowenberg is the producing director for L.A. Theater Works .
This is a terrific production thatíll thrill you and make you cry. It did ME. Sound effects-wise, I get to burn down half of London, stuff kids into trap doors, rattle chains with ghosts, fight and scuffle repeatedly, and beat a poor, blind orphan girl. What fun! L.A. Theater Works will air this program somewhere around Christmas. Hopefully, you can tune into the broadcasts in March 2006 See the L.A. Theatre Works schedule for info. (11/02/2005)

October 16, 2005 - Los Angeles - PERFORMANCE
Tony audio-documented Wilshire Words, a live spoken word tribute to Los Angeles' historic Wilshire Boulevard. This was with Brenda Varda's Wordspace collective of poets and musicians and took place at the Craft and Folk Art Museum in Miracle Mile. Tony recorded five poets and their live backing of acoustic guitar and flute and then mixed the two to create a you-are-there audio CD. The hour-long show may be made available via podcasts. (10/17/2005)
October 2005 - Radio Christmas Carol page
Tony has created a webpage with more details about his radio adaptation of Charles Dickens' A Christmas Carol. This is in response to demands from radio stations and schools across the country, who seek to produce this show on their own. The radio Carol page lists the cast and sound effects called for and has links to both a demo audio clip and an excerpt from the script. Tony now offers a full 60-minute version as well as a 40-minute version for schools and a 30-minute version for radio stations with limited time slots available for drama.
September 15, 2005 - Los Angeles - Post-Production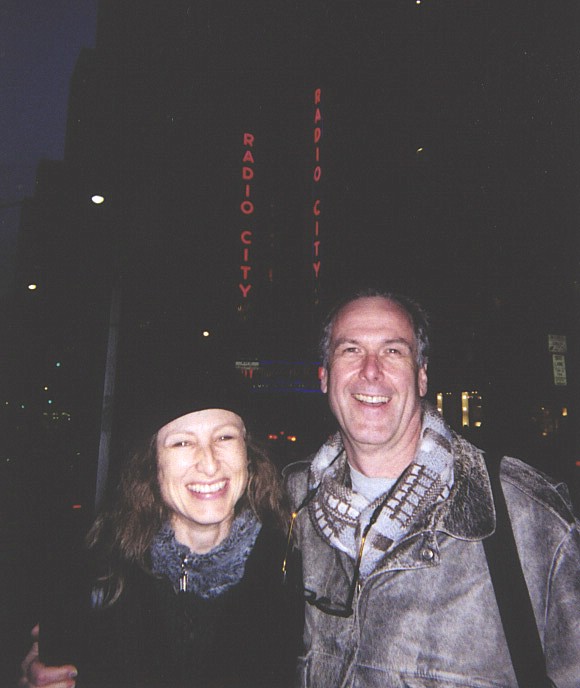 Tony began post-production on a series of projects, including his recent recording of his adaptation of Charles Dickens' A Christmas Carol, and several short pieces created with audio actress, Lindsay Ellison. One of those pieces, Tony "Sparx" Palermo & Lindsay Ellison - Lie With Me - MP3 (5.3 MB) is also available on the RuyaSonic downloads page. (9/15/2005)
August 11,18, 25, 2005 - Hollywood - PERFORMANCES
Tony guest starred, on sound effects with the Liquid Radio Players in entirely improvised live radio-on-stage shows at the ACME Comedy Theatre. Tony brought a host of his vintage SFX devices and plenty of surprises for the improvisers in the cast. The Liquid Radio Players have been pick of the week in both the Los Angeles Times and the L.A. Weekly. (8/11/2005)
August 11, 2005 - Ohio - Eddy Palermo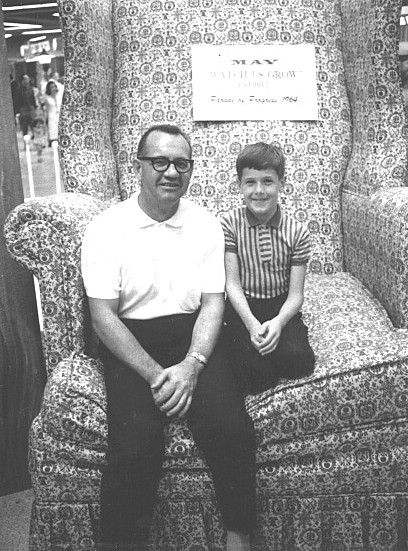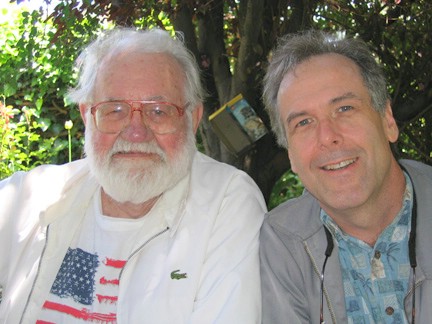 Tony's beloved father, Eddy Palermo passed away suddenly at home. He was 84. Eddy had been a radio-artillery man with Patton's Third Army in Europe during W.W. II. He and his wife of 50 years, Kay attended Tony's 60th anniversary production of Norman Corwin's masterpiece On A Note of Triumph in May 2005 at Los Angeles' Skirball Cultural Center. He will be sorely missed by his family, and children everywhere, who mistook him, with his white beard, for Santa Claus. That was no mistake. (8/27/2005)

August 2005 - Podcasting Hacks book published
In August, O'Reilly Media, the noted publisher of computer "how to" books, published the tech tome Podcasting Hacks, one of the first books on the "Podcasting" phenomenon. Tony collaborated with Jack Herrington for the chapter on "Podcasting for Audio Theatre," offering tips and tricks to make the best of this promising new internet distribution method. Look to my new podcasting info page for more of my suggestions related to producing your own audio theatre pieces for Podcasts.
July 30, 2005 - Hollywood - PERFORMANCE
Tony performed live sound effects in a radio-on-stage production of a new episode of the Dark Shadows, television soap opera from the 1960s. Vengeance at Collinwood, an hour long drama, featured series regulars David Selby, Lara Parker, John Karlen, Kathryn Leigh Scott, Jerry Lacy, Nancy Barrett, and Marie Wallace.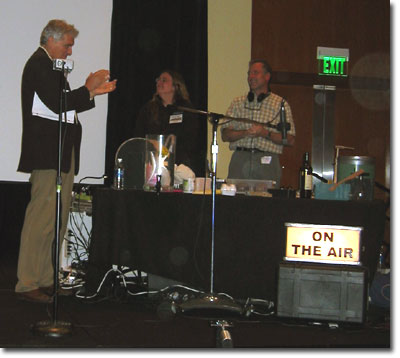 Pictured here, David Selby (Quentin Collins) leads the audience in an appreciation of Tony and Hazel Le Blanc. Among the technical challenges, this gripping new script by writer-director Jamison Selby called for a tricky skipping jukebox effect as well as Jerry Lacy, playing a modern day witch hunter who shares his body with a witch burning ancestor, and a comical jacuzzi in the basement of a creepy mansion. Hazel LeBlanc assisted, triggering the original score from the 1966-1971 TV run. The performance was part of the three day Dark Shadows Hollywood Weekend, a fan convention held at the Hollywood Renaissance Hotel. See www.darkshadowsfestival.com for details. (7/30/2005)
July 1, 2005 - Cyberspace
After six months of having RuyaSonic.com up and running, Tony finally began re-directing visitors from his old "Radio Drama Resources" website on Sprynet.com. The reason for the move was that the 500 daily visitors and 1 gigabyte of traffic was exceeding his bandwidth limits there. The RuyaSonic site has more info, downloadable files and photos, with plenty more to come. If you're a first time visitor take a good look at the RuyaSonic table of contents page to find your favorite pages. (7/01/2005)
July 2005 - Los Angeles
I continue preparing for radio production classes that I'll be teaching in Southern Africa in conjunction with the Medical Institute for Sexual Health and TransWorld Radio. This is similar to my United Nations work in Asia several years ago with the Population Media Center. I will be teaching radio staffers in Swaziland how to create serial dramas aimed at social change, specifically regarding HIV/AIDS issues. I especially look forward to utilizing radio's imaginative ability to render fantasy and thus reach the 65,000 AIDS orphans in this stricken nation of one million. (6/20/2005)
June 29th 2005 - Echo Park, California - WORKSHOP
In Tony's school assembly alter-ego of Sparx, the Wizard of Sound, he held a children's radio drama workshop at Plasencia Elementary School in Echo Park. They produced an episode from Tony's In Old California series of curriculum-based historical "you are there" works. Golden Dreams, Golden Nightmares follows an everyman character through the gold rush days of 1849-50. The 4th grade students handled all acting, sound effects and engineering. It went over very well. (6/29/2005)
June 25th 2005 - Santa Monica, California - WORKSHOP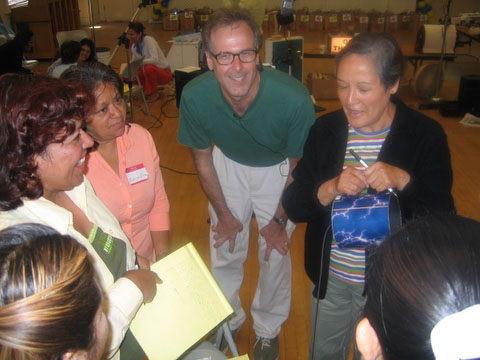 As Sparx, Tony conducted a found sound-effect/story workshop with the folks from reDiscover Center in Santa Monica. This three-hour class and performance covered the physics and metaphysics of noisemaking and then taught 35 pre-school teachers how to use improvised stories based upon found plot fragments AND sound effects easily created from discards and recycled materials. More workshops are planned for Autumn 2005. (6/06/2005)
June 28th 2005 - Pacific Palisades, California - Steve Bell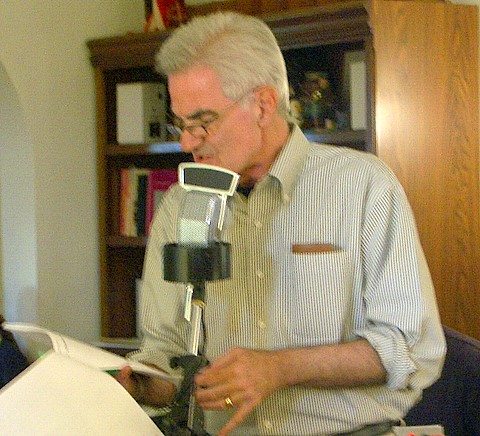 Steve Bell, who, in May, hosted Tony's re-creation of Norman Corwin's "On a Note of Triumph" passed away suddenly at age 66. Steve was a pioneering TV executive, former Director of the Museum of Television & Radio, past president of the Los Angeles Opera League and an instructor at UCLA. His warmth, knowledge and generous spirit were beloved by all who knew him. Steve will be sorely missed. (6/30/2005)
June 13-14 2005 - Los Angeles - PERFORMANCE
Tony produced an opera (NOT a soap opera, a real one) for O-Lan Jones' Overtone Industries Troupe. "Songs & Dances of Imaginary Lands." This was at the Evidence Room in the Los Angeles Silver Lake neighborhood. A production of both ACT I and II is scheduled for February 2006 at Cal Arts in Los Angeles. (5/30/2005)
May 2005 - Beverly Hills - SEMINAR
I attended a tribute to my friend, Norman Corwin, "America's Poet Laureate of Radio" at the Museum of Television & Radio's Mitchell Theater. Norman turned 95 May 3rd and this USC/MT&R tribute presented clips of his works, plus live readings from Norman's works and a Q&A session hosted by Patt Morrison. http://www.mtr.org/seminars/semnrs_la.htm
May 25th 2005 - Los Angeles - ONE TIME ONLY PERFORMANCE
I'm producing and directing a live-radio-on-stage re-creation of Norman Corwin's 1945 masterpiece, "On a Note of Triumph" the most powerful work of 20th century radio poetry, recapping World War II and looking ahead at the uncertain peace to come. This performance at the Skirball Cultural Center, will be in commemoration of the 60th anniversary of the original V-E Day broadcast, and celebrating Norman's 95th birthday, also in May. This project includes my recreating Bernard Herrmann's stirring orchestral score--a daunting prospect. The cast includes John Achorn, Dave Cox, Dale Evans, Michael Gough, Gretchen Johnson, James Napoli, Katarina Palermo, Jesse Mackey, Mitchell Landsberg, Melinda Peterson, Phil Proctor, and Yuri Rasovsky. This production is in association with the talented folks from the Antaeus Company. See my own On a Note of Triumph page for more details. (04/21/2005)
May 28th 2005 - Los Angeles - PERFORMANCE - LATER BROADCAST
I performed sound effects for Peggy Webber's California Artists Radio Theatre production of "Reno" starring Alan Young. This "Mid-Western" was set along the Ohio frontier in the 1870s and concerns a broken down race horse getting a second chance. This is slated to air on XM satellite radio.
(05/02/2005)
April 2005 - U.S. Airwaves - BROADCAST
I contributed sound design for Jim Metzner's Passover Dreams special, which aired in April. The program, hosted by Theodore Bikel, detailed a Passover dinner of ideas humor, and music, with Albert Einstein, Fredrick Douglass, and Lenny Bruce attending. My work could be heard when a Native American shaman arrives and for his gift takes the entire dinner to the Edge of the Universe. I provided the sonic rendering of that journey. For this imaginative radio fantasy, I used an Indonesian cricket twirler, a large "meeting drum," a homemade thunder pulser device (fashioned from a coffee can, tape and a long spring), and a lap steel guitar being rubbed with a metal bar. Jim Metzner is the wonderful audio artist known for his Pulse of the Planet programs. (4/21/05)
April 2005 - Santa Monica
In January, the Virginia Avenue Project had me teach about using sound effects to enhance theatrical performances for a series of radio plays to be written by young dramatists. Those shows were performed April 15-17th at the 24th St. Theater in Los Angeles. www.virginiaavenueproject.org Phil Proctor also lent his advice and SFX kit. The plays were very imaginative and the performances--by adults--inspired. What a great program! (4/20/05)
April 2005 - Sacramento - WORKSHOP
I attended the California Statewide PTA meeting in Sacramento, April 28th-May 1st to market my SPARX's Educational Sonic Storytelling Programs to schools across California. I also conducted a radio drama production workshop for a low power FM station in nearby Davis. (4/29/05)
March 2005 - Northridge, California
I premiered a new short radio comedy called "Colonel Frothingham - Egypped Again!" at the Cleveland Media Academy. This is part of a new series of short-form works that can be produced by small groups in a short time span and without an elaborate sound effects kit or audio rig. The program went over very well with cast, crew and audience. I also presented a Sparx "storytelling with sound" demonstration at the Joaquim Miller Special Education High School nearby. This involved teaching a class of autistic and blind students how to use sound in ways to spark the imagination when producing their own radio plays. This was part of the Listening For Greatness series headed by Naomi Benghiat. (3/30/05)
February 2005 - New Hampshire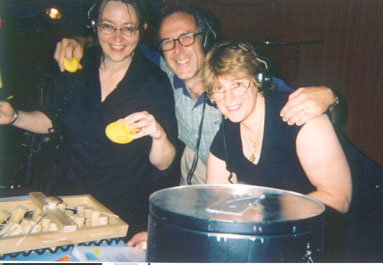 I was teaching in New Hampshire in February at Colby-Sawyer College, in the town of New London. Hester Fuller, a talented media production professor at the school, brought me in to produce one of my "Good, Fast, Cheap & Fun" workshops, as well as to teach a class about radio drama and the sorcery of sound. The shows were very successful and I've been asked to return annually. The snow was wonderful, too. (02/12/2005)
February 2005 - Boston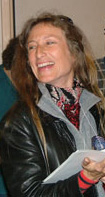 I was working in Boston with my radio-sister, Lindsay Ellison on several audiobook projects. One is a series of Victorian children's stories to be called RuyaSonic Wonder Tales. They employ my "narration with accompaniment" style to mix a single narrator with music, sound effects and occasional other voices, but not as a full dramatization. We tell classic fairy tales and myths in this series. We will also will begin work on "the world's most boring audio book"--boring on purpose--as an aid for insomniacs. This will feature tedious delivery, plodding ideas, and mind numbing music. There are plenty of terribly dull audiobooks out there, but none of them are quite so intentionally boring. (02/14/2005)
JANUARY 2005
Web Traffic Jams Radio Drama Resources Website
Due to the 110,000 visitors who visited my Radio Drama Resources website at http://home.sprynet.com/~palermo in 2004, my ISP shut me down for exceeding the bandwidth allowed a private site. So... I've moved to a bigger, better server--my own domain, www.RuyaSonic.com --that allows me gigabytes of monthly transfers, audio and video downloads and streaming, and a PayPal shopping cart. I'd intended to upgrade my offerings for quite a while and that's what this shutdown of service "opportunity" afforded me. My old web pages will soon merely point you to www.RuyaSonic.com. I suggest you bookmark this site now. (01/01/2005)
RuyaSonic.com debuts
My new site's name is derived from "Ruya," which is Arabic for Dream or Vision, and "Sonic" for how that vision will be delivered via sound. In addition to hosting all my old Radio Drama Resources information, RuyaSonic will have downloadable audio clips and streams of my various radio dramas, "sonic singles," news pieces, photos, my calendar of appearances and whatever else I have time to cook up. If you have suggestions for features you like to see, drop me a line at (01/02)/2005)
January 2005 - Los Angeles - Radio Changed America documentary tapes Tony
Anthracite films is currently shooting a TV documentary mini-series about the power of radio drama, from the golden days of the 1930s up to... this week. They've interviewed writer/director Norman Corwin, producer/actress Peggy Webber, veteran actors, Jan Merlin, John Astin, Dick Van Patten, new time radio auteur Matt Johnson and others. Including me. In early January, I went into the Culver Studios to do an hour long interview and a brief sound effects demonstration. After four-and-a-half hours of stories, analyses and history of the medium, we ran out of time--and I hadn't even gotten to the SFX demo! I'll be back as director Mike Kacey and his crew continue to gather the stories behind the mic. These filmmakers really love radio. If you have stories to tell or resources to share, contact them. Here's a link to their website. They're also looking for investors. http://www.anthracitefilms.com/otr/index.htm (01/08/2005)
January 2005 - Los Angeles
My boss and lovely wife, Carla Fantozzi will begin booking my "SPARX" act for assembly programs at schools and museums in the Los Angeles area. In these solo performances for audiences of up to 400, I will be exploring deep listening and teach how to tell stories with sound. I developed this material for my very successful show at the San Francisco Exploratorium in May 2004. For bookings, contact (01/05/2005)
---
Click here for Radio Activity News - Current -- News - 2006 - News 2007